What are Winter Water Sports?
Winter Water Sports are fundraising events where people raise money to plunge into cold water during Winter.

We offer nine Winter Water Sports events annually:
Penguin Plunge
Prep School Plunge
High School Plunge
Middle School Plunge (new this year!)
Winni Dip (formerly Community Dip)
Law Enforcement Dip
High School Dip (formerly Cool Schools Dip)
Middle School Dip (new this year!)
Mega Dip
A Plunger is a person who participates in one of our Plunge events (Penguin Plunge, High School Plunge, Prep School Plunge or Middle School Plunge).
What if I haven't met the fundraising minimum?
We would like to deliver Survival Packs to our Plungers. To do that we will guarantee your Survival Pack is delivered if the minimum amount is raised by February 6th. Survival Packs are guaranteed to be delivered by February 12th! 
Don't panic if you haven't met the minimum by February 6th. You can complete a deferred payment form which will record a credit card number. This allows you 30 more days to reach the fundraising minimum and still guarantee that you will receive your Plunge pail by the 12th. If you are unable to meet the minimum 30 days after the event, we will process your card with the outstanding balance.
If you hit the fundraising minimum after February 6th, we will do everything we can to get your Survival Pack to you in time.
How do I hand in my cash and check donations?
Drop off any cash or checks to any New Hampshire TD Bank! Make sure when you arrive to the TD Bank you do the following:
Let the teller know you would like to deposit in the "Special Olympics Plunge" account
Write your name on the deposit slip so we can credit the funds to your Plunge
Take a picture of the deposit receipt and email it, along with any applicable cash donor record forms, to SpecialOlympics@sonh.org
Funds will be credited to your Plunge, donors will be thanked and the donation will be added to your online fundraising page. Please allow 3-5 business days for processing.
Find a TD Bank in NH near you here
Don't live near a TD Bank?
Mail checks to SONH at PO Box 3598 Concord, NH 03302
Please do not mail cash. If you have cash donations, please use the offline donation feature on your Plunge page or transfer cash to a money order at a local bank and mail that to us!
Can I share the funds I raised with another participant?
Yes! You can transfer funds from one person to another. Please email SpecialOlympics@sonh.org with the name of the Plunger that you would like to give funds to and the amount, and we'll make the change.
Do I have to register and create a fundraising page online to participate in the Plunge?
No, we have a waiver and registration form that can be completed and sent to SpecialOlympics@sonh.org. However, to guarantee your Survival Pack is delivered to you in time, please submit your waiver and registration by Sunday, February 6th. 
How do I submit my photos and/or video for the Best Photo, Best Costume, and Best Video Contests?
For each contest, click on the approriate link below or on the Fundraise page:
You will be taken to an upload folder: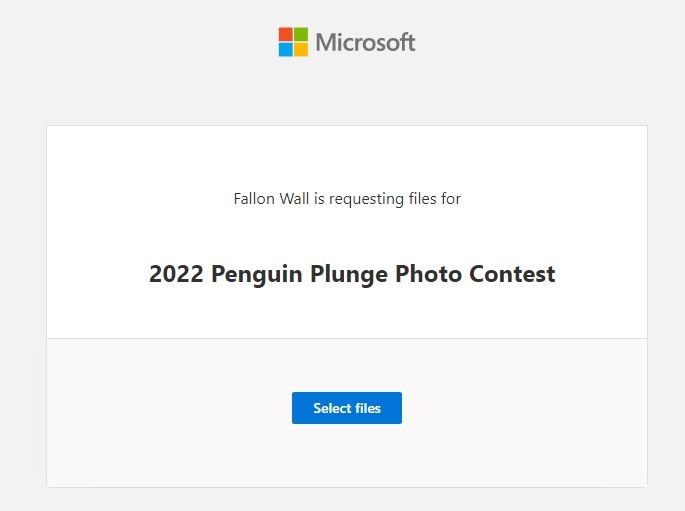 Click on the "Select Files" button and then choose the desired photo or video. Type in your First and Last name so that your submission can be correctly matched to your Plunge page, and then click "Upload."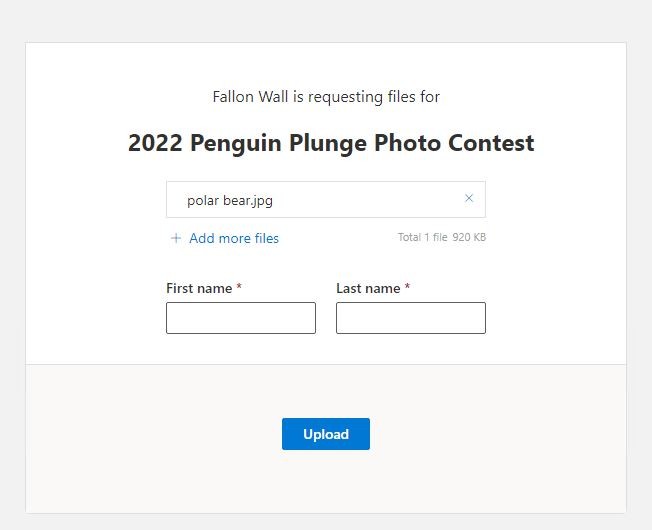 This will enter you into the contest! Check out the prizes here!